Top Sex-Positive Holiday Gifts (That Aren't Sex Toys) – KINKLY.com
This year, more than ever, I wish everyone peace, love, pleasure, and joy. We all deserve calm and comfort after this shitshow of year. These sex-positive gifts were picked with self-care, pleasure, and social change in mind.

Be kind to yourself this holiday season.

Take time to slow down and enjoy your loved ones. And please, make time for pleasure – whatever it looks like to you.
($40 and up)
Elle Stanger is an absolute badass. She's a human powerhouse that literally does it all: writer, stripper, activist, podcaster, sex worker, and educator. Since the clubs are closed, she's been offering custom pole dances from the safety of her den. Give your sweetie a sexy dance by this tattooed babe – I pinky-swear promise it's a gift that keeps on giving.
I hired Elle to dance to Fiona Apple's Smooth Criminal a few months ago, and watch the sultry performance anytime I need a quick, sexy escape. Contact Elle via her website here.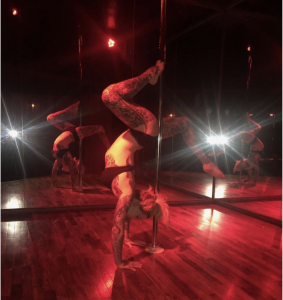 by Ashley Manta ($19.95)
Sex educator Ashley Manta is a fierce advocate of CBD (and other cannabinoids), and how whether you're solo or partnered, it can enhance sexual pleasure. She did trademark the term CannaSexual®, after all. Now, "America's High Priestess of Pleasure," harnesses the therapeutic powers of CBD in Merry Jane's The CBD Solution: Sex How Cannabis, CBD, and Other Plant Allies Can Improve Your Everyday Life. Think DIY lube recipes, dirty talk how-tos, and self-love rituals.
Read: Can I Get My Butt Stoned? – Experts Weigh in on CBD Oil for Anal Sex
($18)
Repeat after me: Sex work is real work (and it needs to be decriminalized). The purchase of this mug supports outreach, referral services, and intensive case management for those involved in the sex industry. One-hundred percent of proceeds go to The Cupcake Girls.
($38 and up)
Forty-five percent of all the abortions in the world are performed in "unsafe" circumstances. Unsafe abortions are more common in countries where the practice is illegal. Every vagina-haver needs access to safe and legal abortion services. Wear this familiar symbol, synonymous with illegal abortion, to remind people that abortion is basic health care.

($36)
Pleasure is your birthright. Although for vulva-havers, pleasure is often viewed as secondary, selfish, even shameful, or wrong. I'm here to tell you that you deserve every last drop of pleasure. Own it, take it, make it happen. The slogan is a riff on the "The Future is Female" tee originated in the '70s lesbian separatist moment. This updated version is a call to arms, if you will, a pleasure revolution. 100% cotton tee-shirt classic/unisex cut styles only. Available in XS – XXXL.
(around $15/pair)
Christi Hairston turned her love for hosiery into a company of her own in memory of her late sister Carra Lavonne. This Black-owned business is all about body and gender inclusivity. The hosiery features men in hosiery photoshoots, as well as brand advertising and packaging. It was one of the first hosiery brands with a built-in panty in all of its leg-wear, because who doesn't want a smooth, sleek leg line?
Standard ($95), Double ($165), or Deluxe ($325)
My motto: It's not fun until you make a mess. Protect your sheets, sofa, and fancy home furnishings with FUX PADS. This women-owned retailer sells play pads made in the U.S. by home workers who aren't about to work outside the home due to disability or care-giving responsibilities. Perfect for period sex or the squirter in your life.
Oh, and for my fellow sluts and polyamorous people, the Deluxe FUX is perfect for orgies and throuples. (Use code 2Blave for 10% off.)
($6.99/month; $50/year) Available in the U.S. and Europe
As much as I love visual pornography, there's something super-hot about listening to erotica and letting your imagination fill in the blanks between words. Kampsite is a new audio erotica platform that shares diverse and inclusive stories from the perspectives of queer men.
Listeners can "follow" individual storytellers to hear and see their new content week after week. Five-percent of all Kampsite subscriptions is donated to The Trevor Project. New users can take advantage of a Free 7-Day Trial.
Read: Sound Off: Audio Erotica
($18 and up)
Stay safe, kinky, and stylish with Dirty Masks. Julie's 100% cotton masks have been my fave staple and conversation starter throughout the pandemic. (I especially love the vulva print – female-identifying folks "get it" right away; male-identifying folks? Not so much.) Whether you're into chicken wire or chains, ball gags or buttholes, middle fingers or male pinups, Julie – literally – has you covered.
($139.95/year; get one year free)
If you want performers and creators to produce porn that's work watching, you better whip out your credit card before you unzip your pants. Paying for porn helps support the people, in front of and behind the camera, to create material.
It also helps destigmatize the industry and make the consumption of porn less taboo. If you're not cool with paying for porn, consider sending some monetary love to your favorite porn star, stripper, or sex worker via their preferred cash app this holiday season, or buy something off their Amazon Wish List.
($109)
Angelik Karapetian RPh, is a compounding pharmacist with over a decade of experience making alternative drug treatments for women. She created Mother's Dose for vagina-havers to have a fast-acting, all-natural solution to feel better. Elite Pleasure, one of the suppositories in the line, helps vagina-havers have the best possible sexual experience.
($29)
We love following Devon Urquhart on Instagram for the hilarious dance videos of her upcycled clothing creations. Her lush, detailed A.F. Dream Anatomy dioramas make us swoon. Her vagina prints, like most of her art, are drawn from her experience as a woman.
($52)
Since we're all staying in, why not take luxuriate in a long steep of CBD-infused bath salts? According to psychologist Neil Morris, "Baths give you…a wonderful combination of isolation, quiet, and comfort." Foria's new mineral-rich Epsom salts are infused with a blend of therapeutic plant infusions and broad-spectrum CBD from USDA organic-certified, regeneratively-grown hemp.
Warm water imbues feelings of calm, but there's something extra special about a bath that will help get you in the mood.
Read: Water Masturbation – Have You Tried This Yet?
($190/yearly membership*)
*Includes complimentary access to virtual adventures. Pay-to-play for physical parties.
Monthly memberships available for access to physical parties at NSFW SOHO starting at $169 (solo) and $269 (couples)
NSFW (New Society of Wellness) takes every precaution to keep its guests safe – from mandatory temperature checks to limiting guest lists to 20 people. For those not in the Big Apple, the members-only sex club offers virtual events and play parties.
---
About Author