Sophia St. James – Interview
Sophia St James is all smiles. The former stripper and current queer pornographer, activist, and sex educator, had taken a seat on the soft couch of the quiet, NE Portland feminist bookstore. The perpetually busy James had found a few minutes from her day to meet with me and I was thrilled.
So, how would you describe yourself?
Oh, wow. I'm a fierce femme, a go-getter, self-reliant and independent. I'm sensual, sexual, playful. "Queer" is a very individualized definition. I define myself as queer because I like all genders, but I would say I have a preference for women and trans people.
How are you active as a sex worker?
I'm a co-representative of SWOP. The Portland one is relatively new, but there are several in the US.
What is SWOP?
SWOP stands for Sex Worker Outreach Project. It was founded in October 2003 under the direction of Robyn Few (who recently passed on September 13th after a long battle with cancer). SWOP at the basic foundation is a anti-violence campaign. SWOP has chapters in several states and we all work together as sex workers and sex worker ally advocates to address local and national violence that sex workers experience based on their criminal status in this country.
What are some of you duties or activities with SWOP?
SWOP-PDX is still in it's forming stages. However, SWOP national requires that all chapters be involved in 4 events each year. Those events are International Sex Workers Rights Day (March 3rd), LGBTQ Pride festival in each chapters cities, Transgender Day of Remembrance (November 20th), and International Day to End Violence Against Sex Workers (December 17th). Each chapter has their own projects they are working on in between those dates. SWOP PDX is currently working on an outreach project and a few other things.
How did you get in to sex work?
I stripped on and off starting at the age of nineteen until I was twenty-four, but I didn't get in to pornography until I was thirty-one, it's kind of a funny story. I was laid up in bed with injuries, I had a broken elbow, torn meniscus and I was looking around on the computer and read about Madison Young and Syd Blakovich getting kicked off of the red carpet, because of Syd's gender-bending appearance. And that was how I learned about queer porn. The biggest difference between mainstream and queer porn is body image. Mainstream tends to rely on descriptors, any time I did it I was always categorized as "ebony" or "BBW."
Right, and I know I'm considered "alt" [because of tattoos]. I have to admit that when I saw your speak at SlutWalk last year and you stated that you were a pornographer, my first immediate thought was wondering which production companies you worked for, because I've mostly been around mainstream porn, and you didn't fit the image in my mind.
Yeah, in queer porn, there's not a real categorization of people as far as looks. It's incidental, it is what it is.
Tell me more about the porn.
I have worked with so many amazing and wonderful people since starting my queer feminist porn journey. The most notable producers and directors are Maria Beatty (The Return of Post Apocalyptic Cowgirls), Shine Louise Houston (Crash Pad Series), Courtney Trouble (No Fauxxx, Queer Porn TV, Bordello), and Bren Ryder (Good Dyke Porn). A few of the other talented performers I have worked with include Jiz Lee, Dylan Ryan, and Syd Blakovich. I look forward to many more opportunities that may arise in the future.
You won an award for your first film. What was it?
It was a 2011 Feminist Porn Award for Twisted Getaway. To be nominated is one thing, but to win? Holy mother.
Sounds amazing. What kind of things do you hear back about your work?
I've gotten some really positive feedback from people who watch; I guess you'd call them "regular straight guys." I've heard stuff like, "I always thought of something negative, like 'faggots' or 'dykes' when I heard [the word] 'queer,' but you've changed my perspective." So it's cool to know that all kinds of people watch. I'd like to think that I'm a sort of backdoor activist. I really like to educate people, my roots are in feminist porn. I want people to know that queer is not a negative thing.
I also really want people to understand that there is a difference between sex work and sex trafficking. I don't want people to be forced to sell their bodies either, but if a person has ownership of themselves, that is their choice. And it's amazing a lot of people don't understand the difference.
How do you think the economy has affected the sex industry?
I don't really think it has. I think there are some industries that will always be around, sex, medicine and health, and alcohol industry.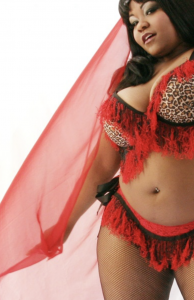 You're the first person I've heard say that they don't think it's affected it.
Well, they have changed, but they will always be around. Maybe there won't be as many businesses, but the industry will survive. It's really about placement. So, say that people aren't going to buy as many dvds because of online content, then companies have to shifting their placement. Well, I'm also not a full time pornographer, so many I see it differently. I'm a part time phone operator for Niteflirt, and I just started doing a local one, it's called Bay City Blues.
Any advice for girls in sex work?
You make the money. Don't let the money make you. Even when I was stripping, I'd see girls start spending their cash on drugs, or suddenly have an "agent." Go in things with a level head. And do it til you can do it no more, but just understand, that nobody retires a sex worker. You'll need a backup plan. If you want to be Nina Hartley, that's great. But most of us need a backup plan.
About Author