Oh Joy Sex Toy – Lucky Devil Eats
Sex education cartoonist Erika Moen is a friend of Strange Bedfellows podcast AND a patron of the Portland area strip clubs.
Read Erika's review of the world-famous Boober Eats Drive Thru Tent, featuring myself, Toxic and some of your other faves from Lucky Devil Lounge (pre-pandemic!).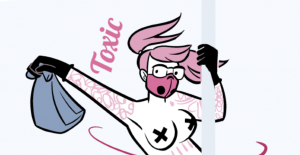 About Author