'Louis C.K. could have hired a sex worker' is a lazy, dangerous argument – Daily Dot
Being paid for labor does not establish consent
In a New York Times report last week, multiple women said that Louis C.K. had pulled out his penis and masturbated in front of them. Weeks before, hundreds women came forward against director James Toback, saying he had solicited them in public places with offers to develop their careers, before getting them alone and sexually assaulting them by dry-humping them, or masturbating in front of them.
Then there were the dozens of women who said they were sexually harassed or assaulted by Harvey Weinstein, including some who said he got naked in front of them during private meetings in his hotel room in attempts to coerce them into sex.
All of these men are allegedly predatory and serial, forgoing consent—coerced consent is still not consent, in the case of C.K.'s victims—to establish power and control.
So now, as many are reckoning for the first time with how to end this type of violence and stop predators from hurting innocent women, a misguided and perhaps unintentionally offensive "solution" has been brought forth: If these men wanted sex, why couldn't they have just hired sex workers instead?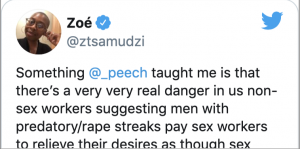 Oddly, one of the most retweeted of these arguments came from Rae Sanni, a Brooklyn-based writer and comedian who also used to be a sex worker. Yes, a former sex worker appeared to be advocating for C.K. and other abusive men to swap in sex workers for victims of violence. However, she also brought up a greater point that many who have encountered violent men did agree with: Abusers don't desire sex; they desire power.
"Guys like Louis CK could just pay a sex worker. Could even request the sex worker play like she's uncomfortable if they likes. But they don't want that," Sanni wrote. "The pleasure is in the actual discomfort of their victims, the power to overwhelm or make them just take it. It's horrendous."
The first part of Sanni's argument opened her up to a flood of criticism from other sex workers and advocates: That abusers "could just hire sex workers" means that sex workers are supposed to absorb abusive behavior in place of women who aren't in sex work, therefore insinuating sex workers are "lesser" than "regular" women who deserve to be treated better.
While other people replied that some sex workers are interested in taking on such clients, many more said the arguments didn't address the heart of the issue: that abusive behavior is abusive regardless of who it's done to.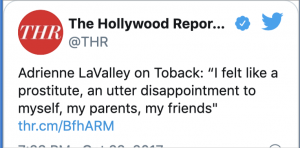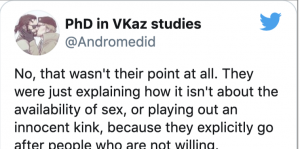 "Just hire a sex worker" is indeed a multifaceted argument—one that Katie Bloomquist says deeply misunderstands sex work and sexual violence, and stems from misinformation and rape myths about sex workers.
Bloomquist, who is the vice president of the Sex Workers Outreach Project-USA, told the Daily Dot that by arguing for sex workers to act as a "solution" for men such as C.K., we suggest that sex workers should just deal with violent men who regularly sexually assault people. This proposal also insinuates that hiring a sex worker would stop men like C.K. from nonconsensually exposing his penis to people he "knows"—which ignores C.K.'s inability to get consent and respect boundaries.
"Such notions that sex workers are 'unrapeable' because they sell sexual services are based on rigid gendered expectations and norms of society—and if one fails to comply with said norms, they are perceived to be responsible for their own assault," Bloomquist said. "Simply selling a sexual service does not provide general consent for any sexual act due to a financial exchange."
Bloomquist, who is also a sex and relationship therapist, did not diagnose C.K., but she said nonconsensual behavior should not be confused with a fetish. When people engage in fetishes or BDSM, consent is still essential.
Elle Stanger, a Portland-based freelance writer, activist, and sex worker, echoed this sentiment. But she told the Daily Dot that while there are sex workers who are willing to accept clients who wish to act out "victimizing" role play, consent is still necessary and she finds it rare that clients will have the awareness and understanding of the behavior that they're looking for, and therefore can't verbalize it.
"I find it's very rare that people are aware of their behaviors that push on other people's boundaries…because they aren't able to recognize how they're healthy, or how they're hurting people," Stanger said. "They might know that they're doing something wrong, so they can't identify exactly how… A lot of people don't understand how much communication has to go on in consensual sex work."
Stanger argues that an ideal model of sex work requires all parties to be informed and consenting. So if men like C.K. are aroused by exposing himself to a nonconsenting person and harming them, sex work may not be an option for them unless they're victimizing the sex worker, too. Because men who pay for sex work aren't immune from abusing sex workers.
"It would be a suitable option if a client talks to the sex worker, the provider, and they discuss and agree on a role play, that would be an ideal situation. But if the perpetrator is looking to hurt someone or scare someone, then sex work is not a viable option because you're just creating more victims," Stanger said.
Bloomquist said that clients and sex workers need to set limits and boundaries beforehand—from behavior to prices to safer sex practices to location.
"Even if Louis C.K. were paying a sex worker for their time, engaging in this behavior without prior negotiation and the consent of the other person would still be nonconsensual sexual violence," she said. "Engaging in this nonconsensual behavior with a sex worker does not negate the fact that it is sexual violence."
If you are a victim of sexual assault or want more information on sexual assault, contact the Rape, Abuse & Incest National Network at 1-800-656-HOPE (4673).
About Author